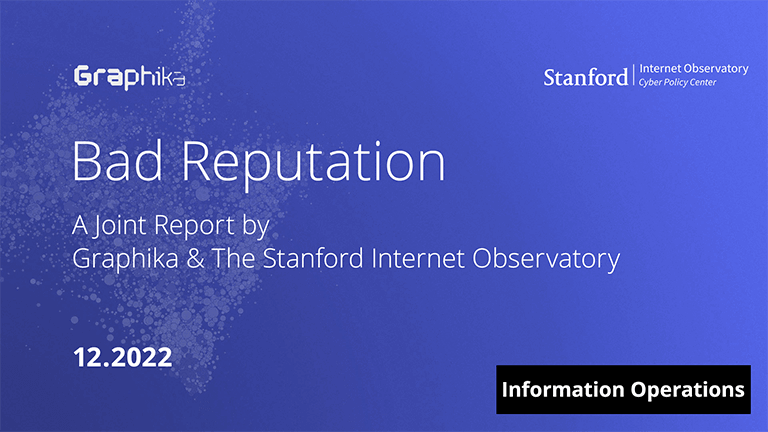 Graphika Report
Tuesday December 13, 2022
Bad Reputation
Graphika & The Stanford Internet Observatory
Read Full Report
Suspected Russian Actors Leverage Alternative Tech Platforms in Continued Effort to Covertly Influence Right-Wing U.S. Audiences
Suspected Russian actors have leveraged alternative social media platforms to target right-wing U.S. audiences with divisive political narratives to a greater extent than previously known. This report describes ongoing activity by a set of 35 newly-discovered and previously-attributed inauthentic accounts on Gab, Gettr, Parler, and Truth Social, building on previous foreign influence operations (IO) likely conducted by the same actors since at least 2020.
The content and behaviors closely mirror those of earlier operations. The actors created a network of fake personas on platforms popular with right-wing communities, which act in a coordinated manner to spread political messages. These include narratives common within these communities, such as allegations of voter fraud in the 2020 U.S. presidential election and 2022 midterms, as well as attempts to undermine public support for Ukraine in the context of the Russia-Ukraine war.
Based on the technical, behavioral, and content indicators detailed in this report, we assess with high confidence that this activity is linked to the actors behind the Newsroom for American and European Based Citizens (NAEBC), a fake right-wing news outlet that targeted U.S. audiences ahead of the 2020 presidential election. NAEBC has been attributed by Meta to individuals associated with past activity of Russia's Internet Research Agency (IRA), an assessment reportedly shared by U.S. law enforcement.
The newly-identified activity illustrates the extent to which suspected Russian actors are able to leverage social media platforms that lack robust policies on foreign IO. Some of the accounts in this network were first exposed in 2020, again in 2021, and most recently ahead of the 2022 U.S. midterms. Due to an apparent lack of enforcement, the actors have established a degree of persistence unavailable on most mainstream platforms and are able to conduct their operations with relative ease.
Our analysis of the fake personas' follower network shows they largely operated in an echo chamber of highly-dense overlapping follower relationships on fringe platforms. However, the operation experienced moments of significant "break out," when content created by the actors was amplified organically to large audiences on mainstream social media platforms.
Lastly, we assess the actors engaged in a deliberate effort to capitalize on public concerns about foreign interference in U.S. elections - a recurring IRA tactic known as "perception hacking." This report aims to provide a fact-based analysis of the tactics, techniques, and procedures employed by these actors, the reach those afforded them, and the limitations they faced. We hope this and other reports we publish on similar activity will provide the foundation for an informed discussion about the realities of online influence operations, rather than relying on unverified claims by the threat actors themselves.
Read Full Report