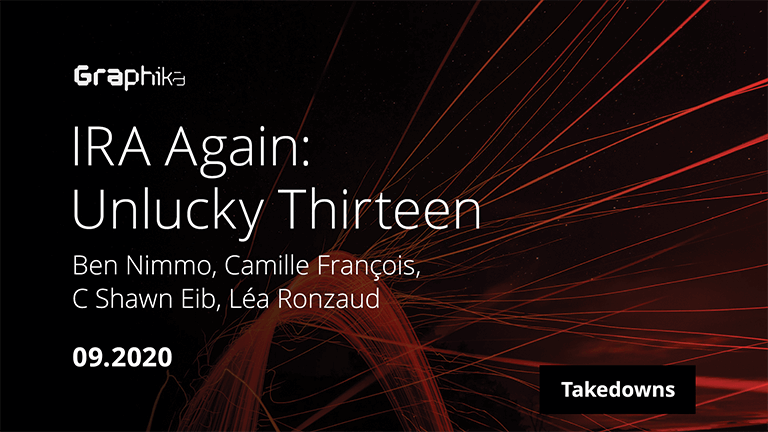 Graphika Report
Tuesday September 1, 2020
IRA Again: Unlucky Thirteen
Ben Nimmo, Camille François, C Shawn Eib, Léa Ronzaud
Read Full Report
Facebook Takes Down Small, Recently Created Network Linked to Internet Research Agency
On September 1, 2020, Facebook announced that it had taken down two recently created pages and 13 accounts on its platform that it attributed to "individuals associated with past activity by the Russian Internet Research Agency (IRA)." The network largely served to amplify a website called peacedata[.]net that claimed to be an independent news outlet working in English and Arabic. Facebook exposed the network after a tip-off from U.S. law enforcement about off-platform activity.
Before the takedown, Facebook shared the network with Graphika for independent analysis.
The personas that the network created used AI-generated profile pictures and maintained a presence across Facebook, Twitter and LinkedIn, in an apparent attempt to appear more convincing; this is the first time we have observed known IRA-linked accounts use AI-generated avatars. However, the website employed real and apparently unwitting individuals, typically novice freelance writers, to write its articles. Between February and August 2020, it published over 500 articles in English and over 200 articles in Arabic, some of them original, others copied from a range of sources.
Read Full Report