Key Findings
Suspected Russian actors are engaged in a renewed effort to target far-right audiences in the U.S. with politically divisive messaging ahead of the November midterm elections.
This includes direct attempts to undermine support for Democratic candidates in Pennsylvania, Georgia, New York, and Ohio. Other narratives promoted by the network comprise inflammatory messaging about sensitive cultural and political issues, as well as criticism of President Joe Biden.
These narratives are primarily advanced via a series of political cartoons, which we assess were likely created by the actors and are almost certainly intended to go viral. Similar cartoons disseminated by this campaign have previously achieved significant levels of engagement from authentic online communities.
Assets in the network have, for the first time, promoted entities publicly linked to Russian businessman Yevgeny Prigozhin, supporting our attribution of this campaign to actors associated with past activity of Russia's Internet Research Agency.
This latest, midterms-focused phase of the campaign has so far achieved minimal traction online. We are publicly sharing limited content samples and our recent observations about TTPs to raise awareness of the activity and its origins.
Background
Graphika first exposed the Posing as Patriots network in June 2021, following our previous investigations of Russian-linked influence operations targeting the 2020 U.S. election. The network comprises a series of fake personas on alt-tech platforms popular with far-right online audiences in the U.S., including Gab, Parler, Gettr, and the discussion forum patriots.win. These personas routinely spread inflammatory narratives about sensitive cultural and political issues in the U.S., including vaccines, gun control, racial injustice, and allegations of child sexual abuse. The actors are consistently critical of the Biden-Harris administration.
Based on behavioral and content indicators, we have previously attributed this activity with medium confidence to the actors behind the Newsroom for American and European Based Citizens (NAEBC), a fake right-wing news outlet that targeted U.S. audiences ahead of the 2020 presidential election. NAEBC has been attributed by Meta to individuals associated with past activity of Russia's Internet Research Agency (IRA), an assessment reportedly shared by U.S. law enforcement. Our attribution of the Posing as Patriots network to these actors has since been corroborated by other members of the IO research community, including Recorded Future.
Renewed Activity in 2022
Key assets in the Posing as Patriots network went dormant in January 2022. This was a notable change in behavior as the network had previously posted on a near-weekly basis since the days after the U.S. 2020 election. While there is a correlation between the timing of this development and Russia's preparations for its subsequent invasion of Ukraine, we do not currently have evidence supporting a connection between the two events.
As noted by other researchers, a subset of network assets reactivated in August and September this year. These accounts have since engaged in behavior consistent with previous phases of the campaign, sharing articles from right-wing media outlets or screenshots of social media posts alongside incendiary political commentary. There are three notable developments in the actors' tactics, techniques, and procedures (TTPs), however, which we wish to highlight in this blog post.
Cartoon Network
While key assets in the network began posting again in August-September this year, one notable change in TTPs at this time was the absence of distinctive political cartoons, which we assess are likely original content created by the actors. These cartoons formed a mainstay of the campaign's previous activities, and typically bore the artist signature "Schmitz." It is not clear if Schmitz is a real artist whose work has been reappropriated or a fictitious persona.
Since Oct. 29, however, a network asset on patriots.win has shared six new Schmitz cartoons in rapid succession. These cartoons appear to be an attempt to directly target U.S. online political discourse ahead of the November midterms. All six promote narratives that criticize and disparage Democratic candidates in tight electoral races, specifically Raphael Warnock and Stacey Abrams in Georgia, Tim Ryan in Ohio, Kathy Hochul in New York, and John Fetterman in Pennsylvania.
Previous Schmitz cartoons shared by the campaign achieved some notable levels of engagement in authentic online communities. In October last year, for example, a prominent U.S. journalist presented one cartoon as evidence of a right-wing narrative that Dr. Anthony Fauci was killing puppies, representing a category-five incident on the breakout scale. At the time of writing, the most recent set of cartoons had received very low engagement and no organic spread to other platforms.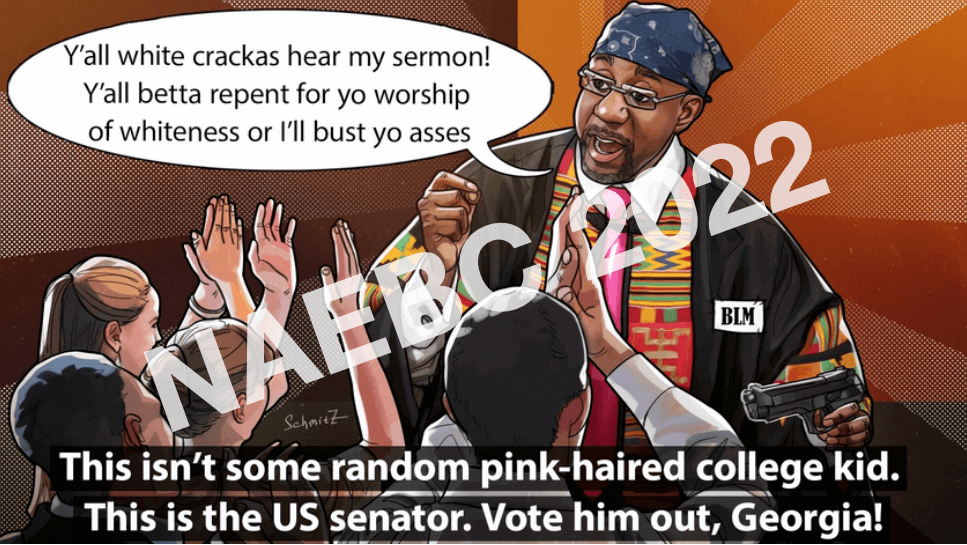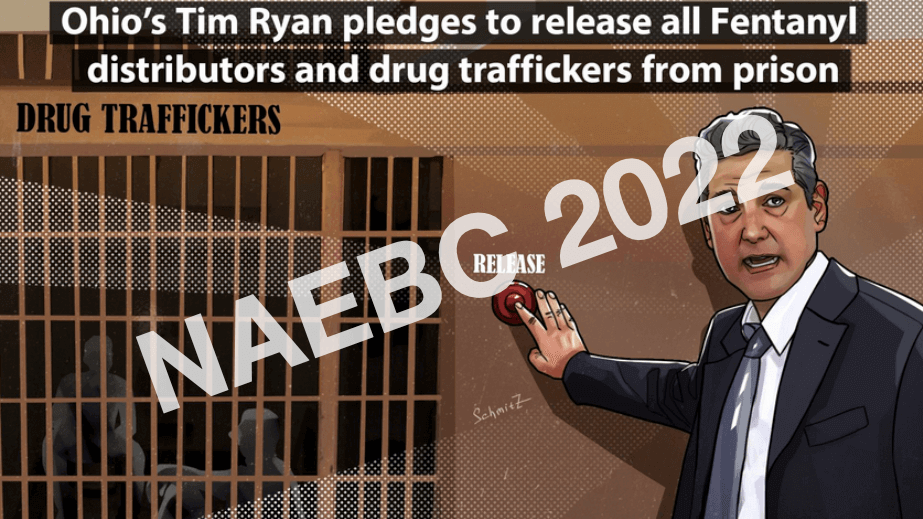 Godwin's Law
Whereas previous phases of the campaign focused exclusively on U.S. domestic issues, since reactivating in recent months, key assets in the network have promoted narratives related to the war in Ukraine. These include false and misleading pro-Russian narratives, such as allegations that Ukraine is a Nazi state. Other narratives target U.S. support for Ukraine, attempting to link the actions of the Biden administration to falling U.S. living standards.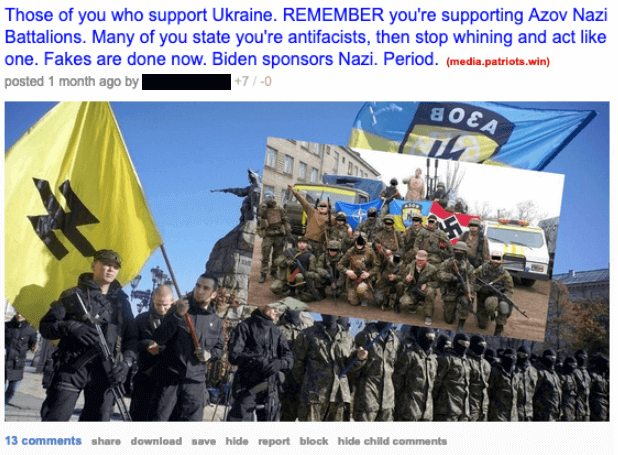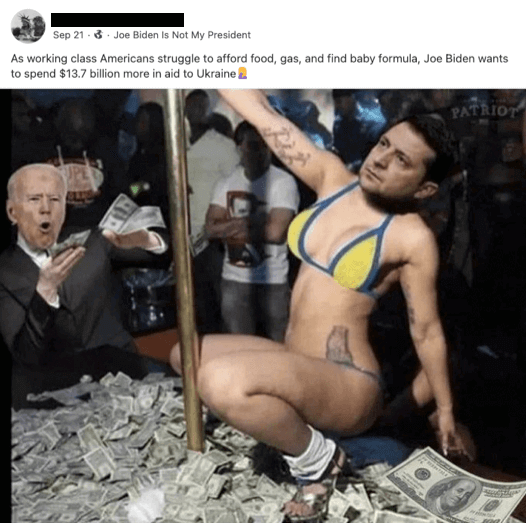 Privyet, This Is the FBI
Assets in the network which remain active on Gab have promoted entities openly affiliated with Russian businessman Yevgeny Prigozhin, who U.S. prosecutors say has funded and directed IRA operations targeting the U.S. since at least 2014. This is the first time we have seen the campaign engage with the wider Prigozhin-linked media empire, supporting our attribution to actors associated with past activity of the IRA.
This activity includes network assets sharing links to the "Foundation to Battle Injustice" [Фонда Борьбы с Репрессиями], which says on its website it is an international human rights organization "founded with the assistance of Russian entrepreneur Evgeny Prigozhin." The organization typically uses the abbreviated version of its name in both English (FBI) and Russian (ФБР - the Cyrillic acronym for the FBI).
On Oct. 31, for instance, two fake personas on Gab shared links to English-language FBI articles. The first accused Biden of using the U.S. Department of Justice as a "political weapon" and taking "increasingly desperate steps in an attempt to retain power and eliminate his political rivals" ahead of the midterms. The other criticized the imprisonment of Steve Bannon, who previously acted as a leading adviser to former President Donald Trump.