State Outlets Use U.S. Unrest to Further Their Own Narratives
State-controlled media outlets and official public diplomacy accounts in China, Iran, and Russia are focusing on the anti-racism protests in the United States, but they are primarily doing so in a way that furthers their existing narratives, rather than stoking American divisions.
China's primary goal appears to be to discredit U.S. criticism of China's crackdown on Hong Kong. Iran's primary goals appear to be to discredit U.S. criticism of Iran's human-rights record and to attack U.S. sanctions. Russian state-controlled outlets largely focused on the facts of the protests, in line with a longstanding practice of covering protests in the West; some individual pieces of editorial content also attacked Kremlin critics and the mainstream media.
These narratives are playing out on traditional media and social media platforms, but there is no evidence as yet to suggest a large-scale, covert interference campaign like those the Russian Internet Research Agency waged against the United States from 2014 until at least early 2020.
China
China's primary focus in the days before the killing of George Floyd on May 25 was on the international reaction to its proposed security law on Hong Kong - a move widely condemned in the West as an attempt to strip Hong Kong of its remaining legal and democratic protections. On May 22, U.S. Secretary of State Mike Pompeo called the law the death knell for Hong Kong's autonomy.
On May 25, state-controlled outlet the China Daily published an article calling criticism of the law "hypocrisy" and commenting on "the hysterical outburst of China-haters." The article argued that "many countries have enacted national security laws" and that China's was no different. Two days later, a follow-on editorial accused the West of adopting a "double standard" on Hong Kong.
No country, not even the United States, which proclaims itself to be the flag-bearer for democracy and which is worshipped by some of the radicals in Hong Kong as the beacon for their violent acts, would sit idle should one of its cities be threatened by such mob violence and even terrorism and be at risk of falling into the abyss of chaos and lasting social disorder.
On the morning of May 28, another state outlet, the People's Daily, ran a similar, lengthy editorial under the byline Zhong Shen (a pen name often used by the outlet to express its views on foreign policy) to argue that Western criticism of the Hong Kong law was an attempt to "challenge international law with double standards."
None of these articles mentioned the protests that had begun to sweep across the United States. As the protests took hold, Chinese officials and state outlets portrayed them as proof of the hypocrisy claim and posted or amplified messages that explicitly contrasted the situation in the United States with the earlier protests in Hong Kong. This was opportunistic messaging to bolster an existing narrative, not an attempt to create a new one.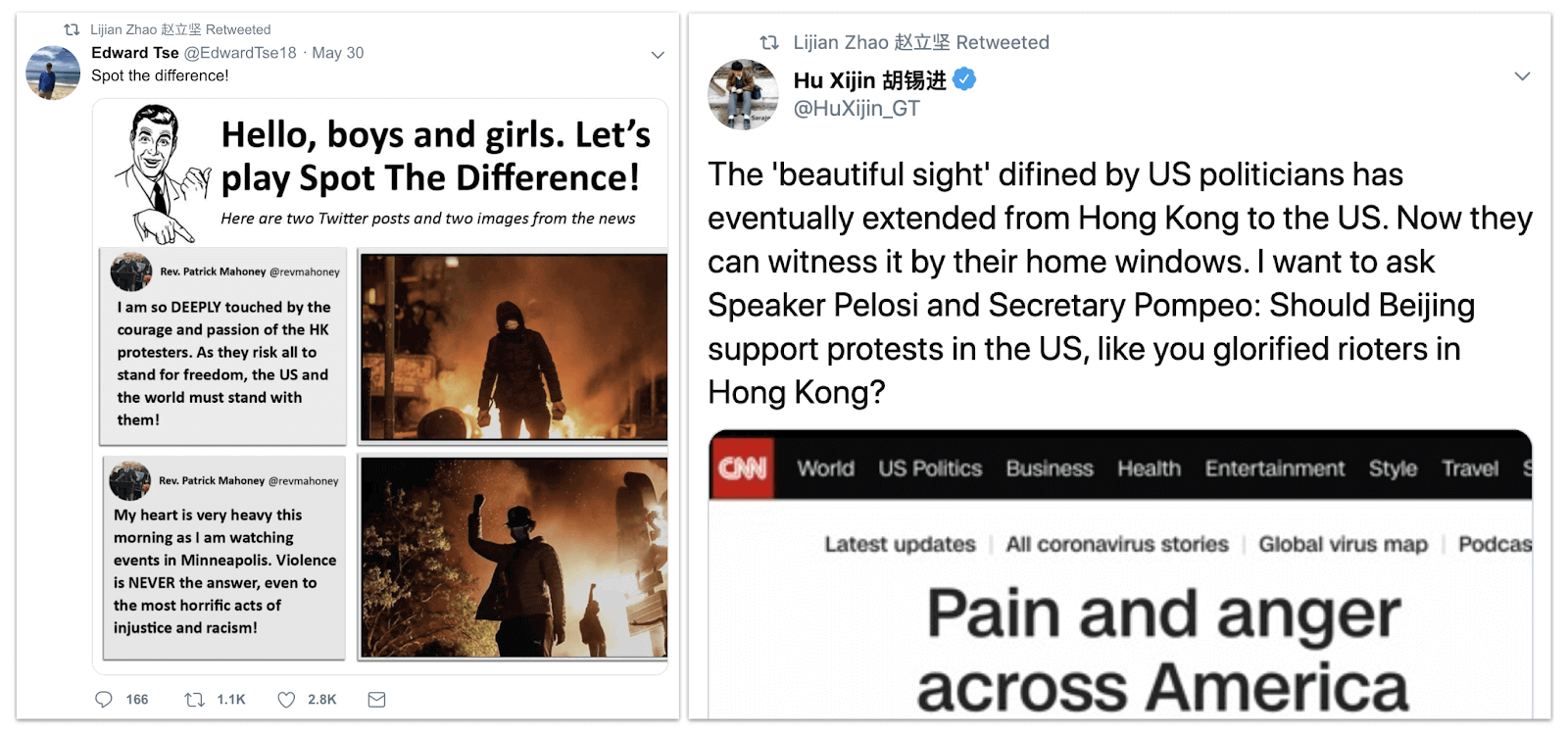 Retweets by Chinese Deputy Foreign Minister Lijian Zhao comparing the Hong Kong and American protests. The right-hand post retweets Hu Xijin, chief editor of the Global Times, another state outlet; the quote "beautiful sight" refers to a comment on the Hong Kong protests made by U.S. House Speaker Nancy Pelosi in 2019.
"The hypocritical US political elites have given full play to double standards," the Global Times proclaimed on May 29 as it contrasted the U.S. and Hong Kong protests. The tabloid returned to the theme two days later as it speculated on how the international community should respond:
What follows, as the US used to direct such plays, should be that China and countries whose internal affairs the US has interfered in, release statements and support the "revolt of the American people," . . . As for the countries which have not done this so far, Washington should be aware that it owes them a big favor.
On June 1, the People's Daily summarized one of the key Chinese state narrative on the issue:
The U.S. has successfully attracted the attention of the world's media in recent days, serving as a vivid demonstration of American "double standards" and the country's deteriorating political environment.

On the one hand, protests over the death of an unarmed African-American man in Minneapolis police custody have spread around the U.S.; on the other, the U.S. has threatened to impose economic sanctions on Hong Kong.
Some of the posts from state outlets and officials border on online "trolling" behavior. In particular, they used George Floyd's dying moments and last words - "I can't breathe" - to troll State Department Spokeswoman Morgan Ortagus and to characterize U.S. President Donald Trump's decision to pull the U.S. out of the World Health Organization. "I can't breathe" became a rallying cry of anti-racism protesters after the death in a police chokehold of African-American Eric Garner in 2014. They were Garner's last words.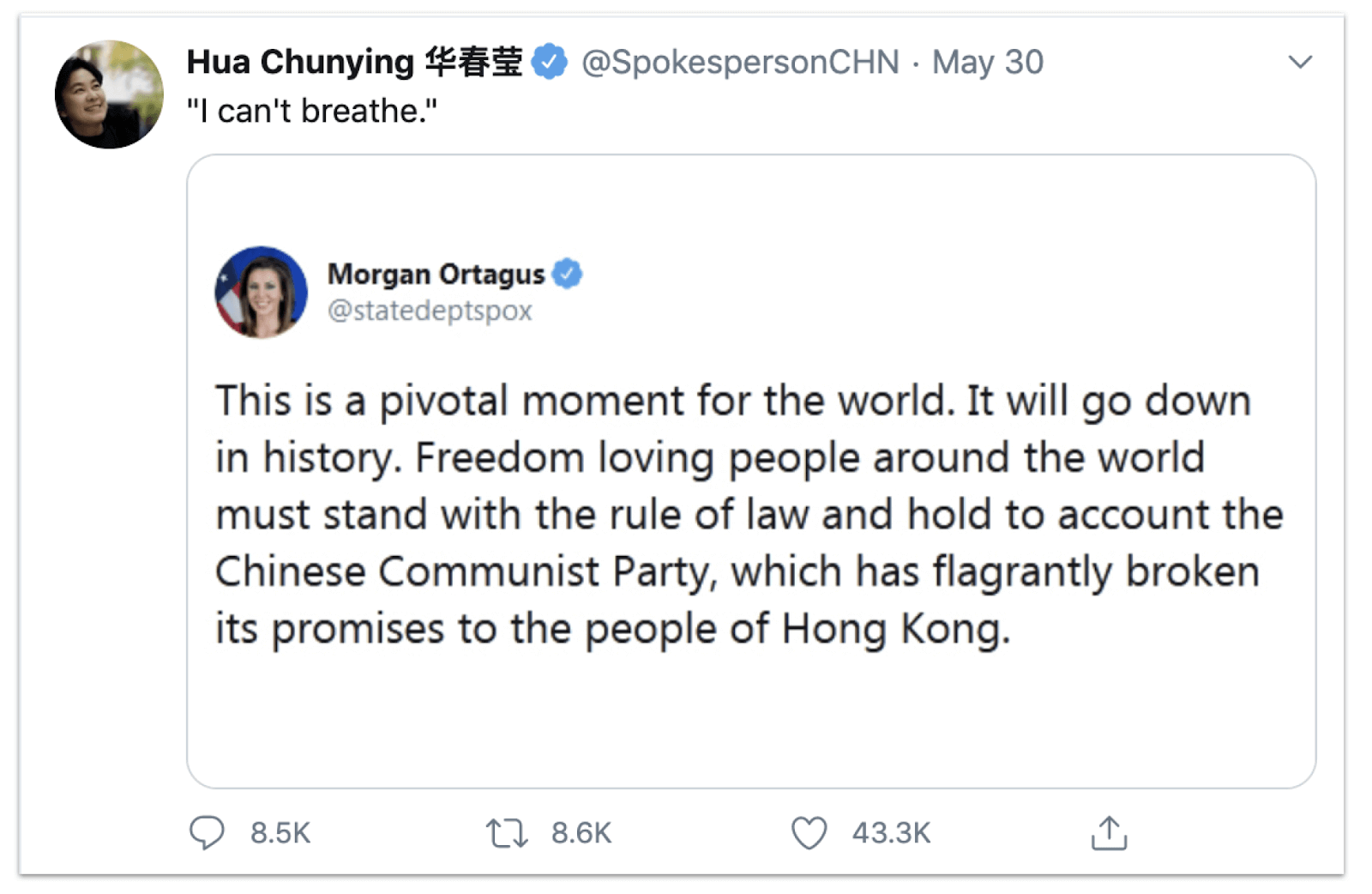 Tweet by Chinese Foreign Ministry Spokeswoman Hua Chunying, quoting Floyd's last words to her American counterpart. The Chinese official's tweet included a screenshot of a tweet by Ortagus on May 30, referencing the Hong Kong law.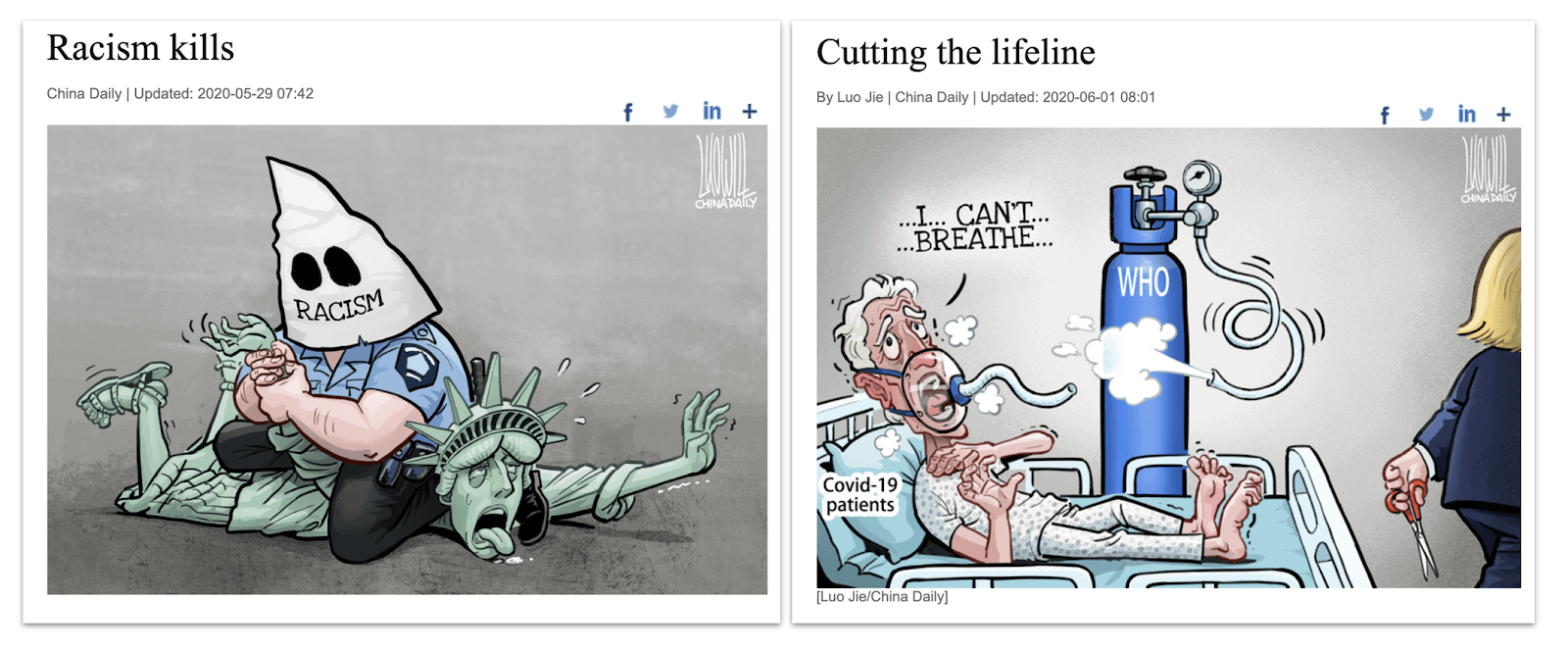 Cartoons by the China Daily May 29, onracism, and on June 1, portraying Trump cutting the WHO's lifeline.
Some comments looked beyond Hong Kong. For example, on June 1 Foreign Ministry Spokeswoman Hua proclaimed that China "stand[s] firmly with our African friends" against racism, although she awkwardly used the phrase "all lives matter," which is often seen as a way of playing down the message expressed in the phrase "black lives matter."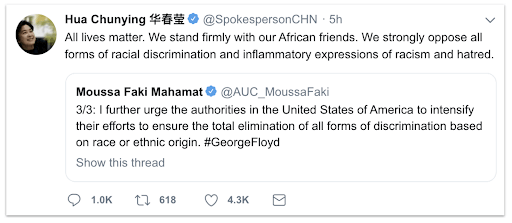 Post by Hua Chunying quoting the President of the African Union Commission, who condemned "continuing discriminatory practices against Black citizens of the USA."
Such posts reinforced another long-standing Chinese narrative of supporting African states as an alternative to Western colonialism and exploitation: again, therefore, they fit the U.S. protests into an existing narrative, rather than creating a new narrative to fit the protests.
Graphika mapped the Twitter conversation around these and similar Chinese state-affiliated accounts and their Russian and Iranian equivalents. Perhaps counterintuitively, the accounts that followed these Chinese state assets seemed more interested in sharing content from other channels, especially U.S.-based news outlets reporting directly on the protests. A higher proportion of URLs shared by accounts in the map came from non-Chinese state sources. The Chinese state narrative - largely focused on the very specific issue of Hong Kong - does not appear to have caught on with a broader audience.
There was no indication in the map, or in any of our current investigations to date, of a substantial covert online influence operation stoking divisions in the United States or pushing Chinese government propaganda by masquerading as Americans. It should be noted that the latest known pro-Chinese government messaging information operations on social media have been marked by their clumsy and spammy approach; such covert operations would be unlikely to play a substantial role in stoking the American protests on the ground.
Iran
Iran's response to the U.S. protests was similar to China's in its broad outline: it took U.S. criticisms of Iranian crackdowns on demonstrations and turned them on the United States. Once more, the tone was troll-like: Iran's Deputy Foreign Minister Javad Zarif even took a screenshot of a genuine U.S. statement about protests in Iran and edited/annotated it to criticize the United States.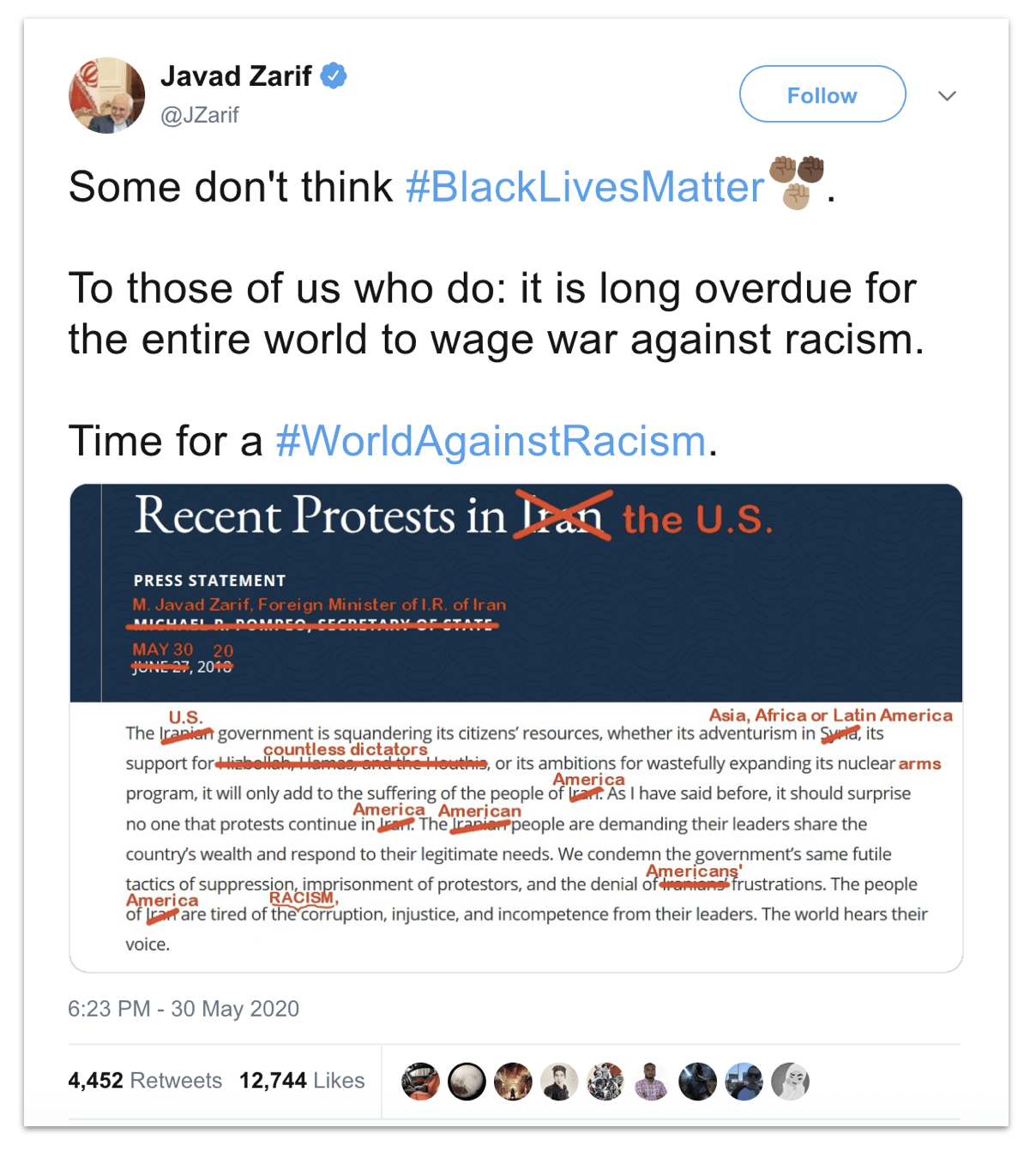 Tweet by @JZarif, embedding an edited screenshot of a State Department statement.

Left, the statement by Secretary Pompeo. Right, Deputy Minister Zarif's edition.
In a similar vein of reflecting American words back at the White House, the Iranian Foreign Ministry posted a photo of the protests alongside a quote from Martin Luther King's immortal "I have a dream" speech.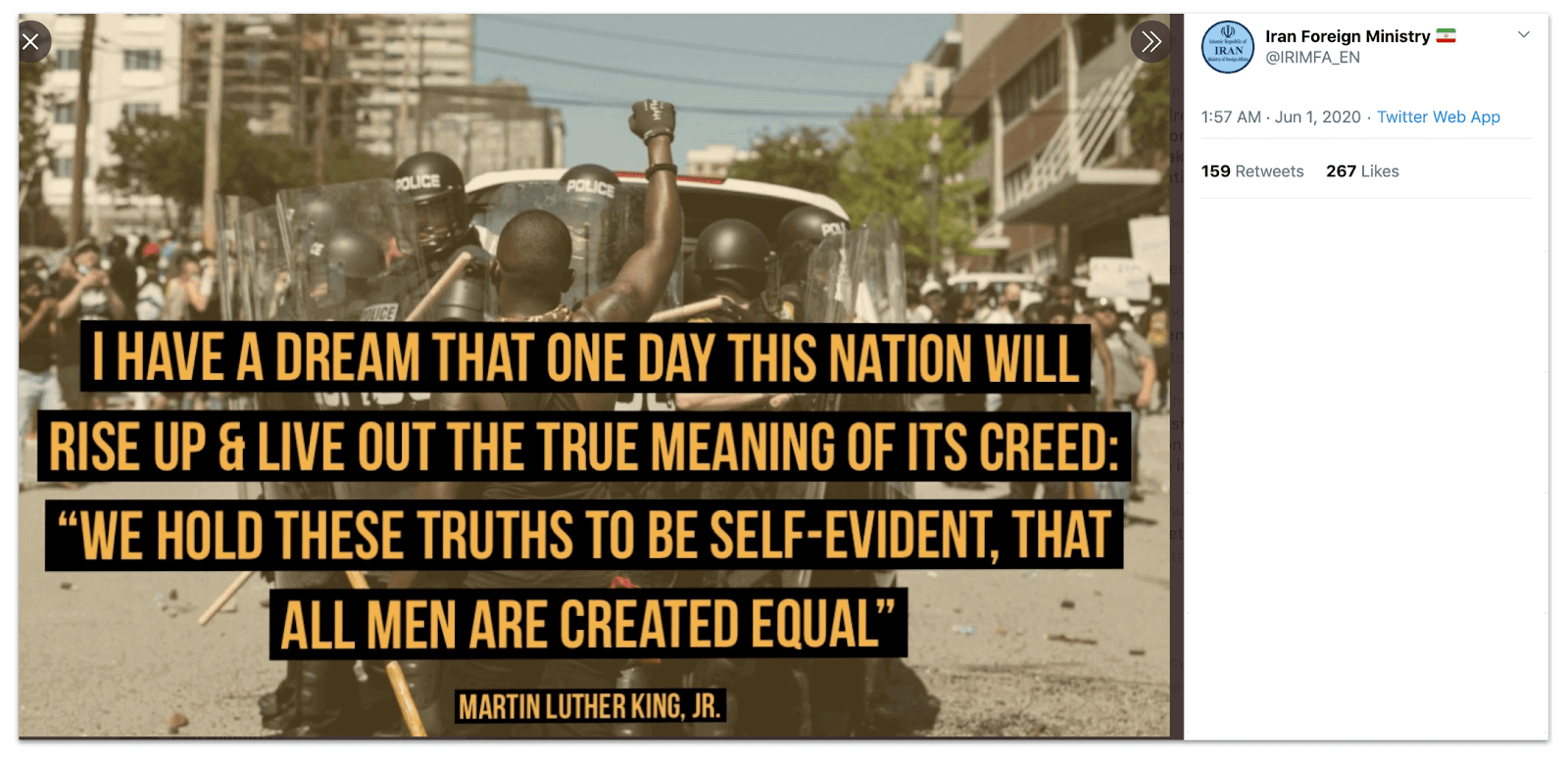 Tweet by the Iranian Foreign Ministry.
On June 1, Foreign Ministry Spokesman Abbas Moussavi made an English-language statement addressed to the United States, urging the country to "Stop violence against your people and let them breathe." Moussavi's statement made an explicit link between the U.S. riots and American foreign policy.
The American regime is perusing [sic] violence and bullying at home and abroad. We are greatly sad to see, along with the people across the world, the violence the U.S. police have recently unfolded.
The comment was amplified by state outlets including PressTV, Fars, and the Tehran Times.
The manner of Floyd's death - asphyxiated by a policeman kneeling on his neck - provided particular fuel for Iranian outlets both overt and covert. In another tweet, Zarif connected the death with the U.S. policy of "maximum pressure" sanctions on Iran, while the pro-regime website IUVMpixel.com used it to personify Trump as the perpetrator with a cartoon headlined, "George Floyd, a new victim of Trump's regime."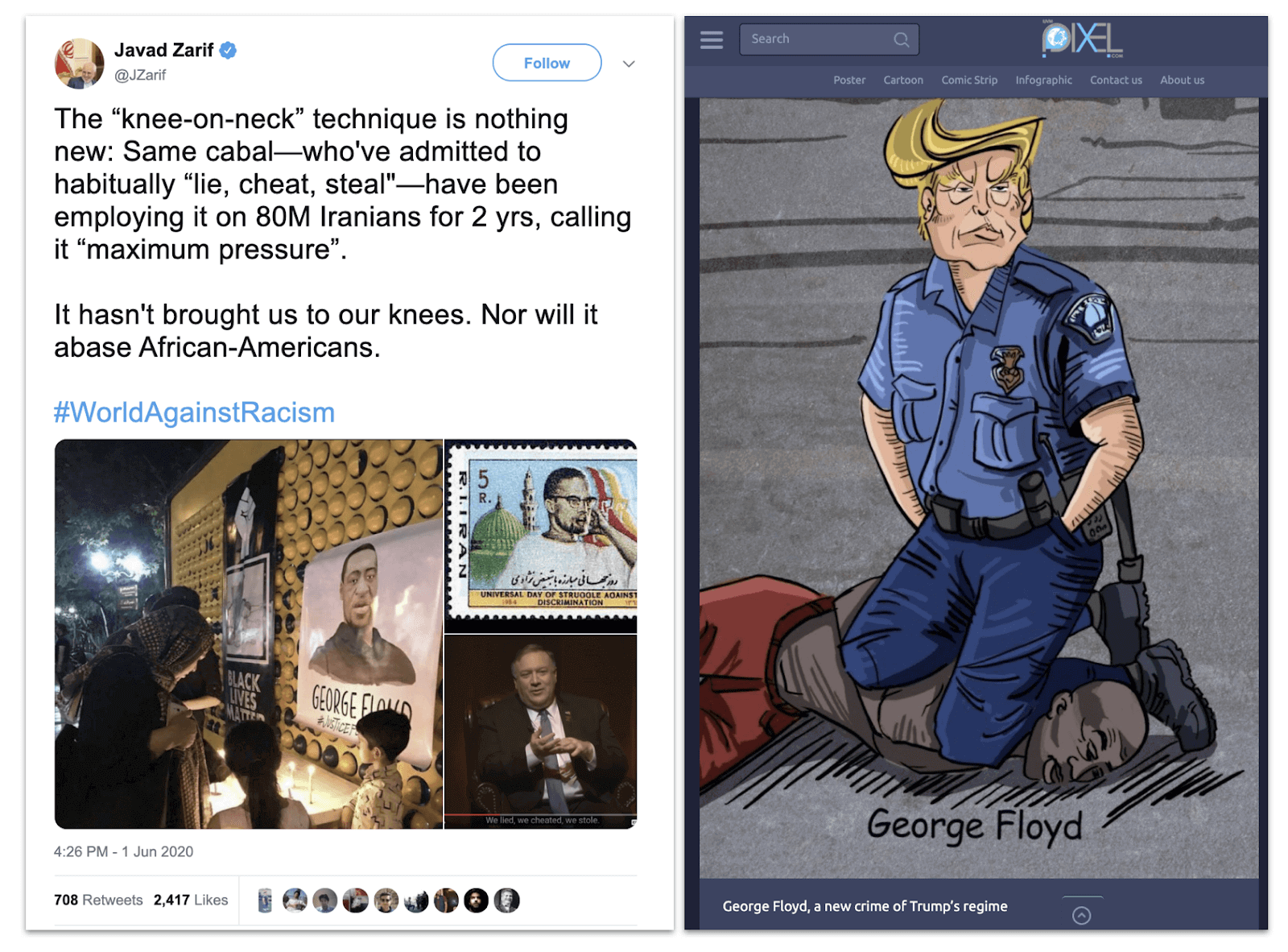 Left, tweet by Javad Zarif. Right, cartoon by IUVMpixel.
The IUVM family of websites has frequently been associated with fake accounts and coordinated and inauthentic behavior across social media platforms, but on this occasion, the cartoon post did not appear to be amplified by any social media assets. According to Graphika's map of the Twitter accounts that followed Iranian state outlets, more activity focused on a series of hashtags that were also trending in the West, notably #JusticeForGeorgeFloyd. The key exception was a hashtag that a group of Iranian regime supporters appears to have created, #IranWithGeorge. Given that they named their country of origin clearly in the hashtag, this should not be considered a covert attempt at influence.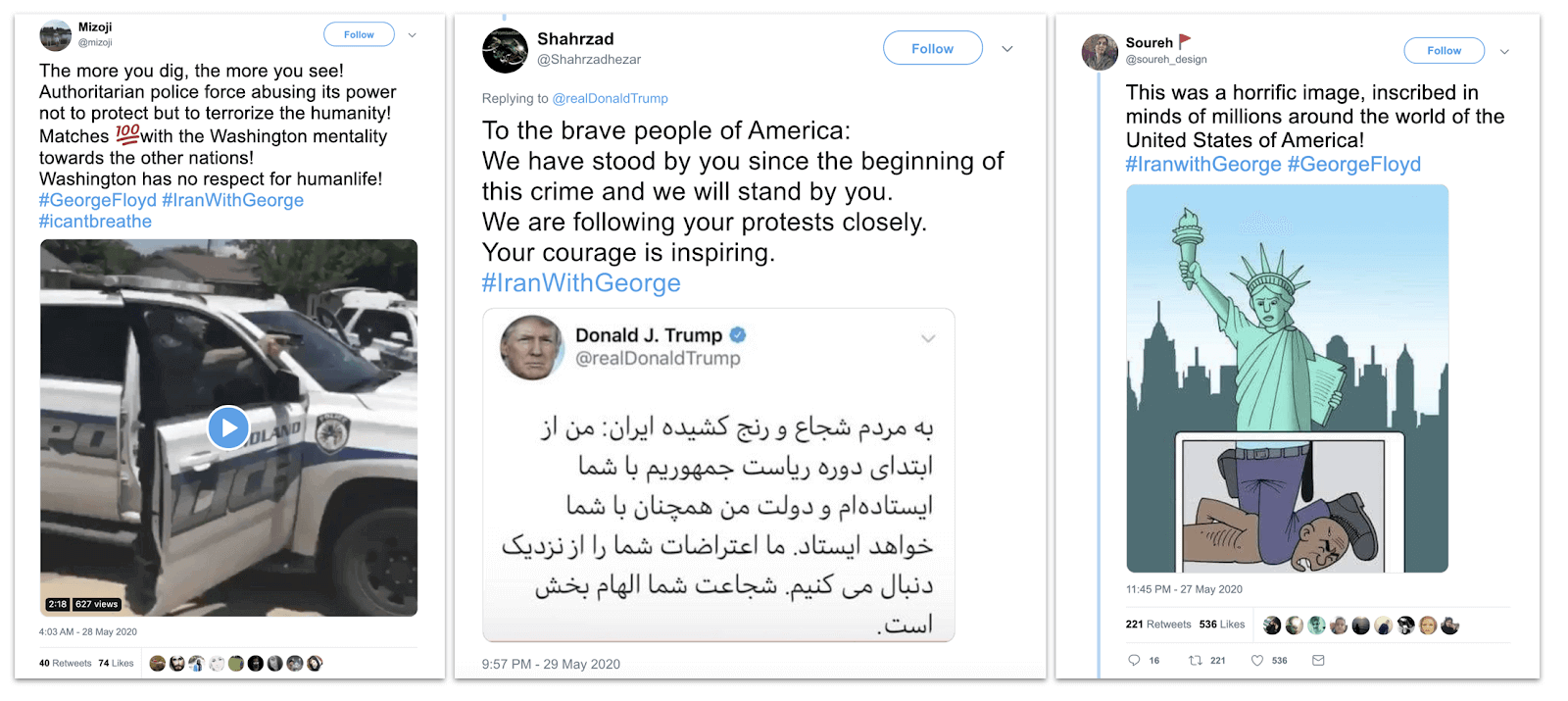 Threetweetsby pro-Iranian accounts on the #IranWithGeorge hashtag. The central post mocks aTrump post in Persian that supported protesters in Iran, in another case of reversing American messaging to attack the United States. The right-hand post reproduces acartoon by an artist in Morocco.
Russia
Russian state-controlled outlets were less tightly focused than their Iranian or Chinese counterparts on a specific interpretation of the protest. Much of their coverage focused on the facts on the ground, in line with a practice of highlighting genuine grievances and protests in the West; some editorials focused on prominent Kremlin critics, notably the mainstream media, former U.S. President Barack Obama, and human-rights NGO Human Rights Watch.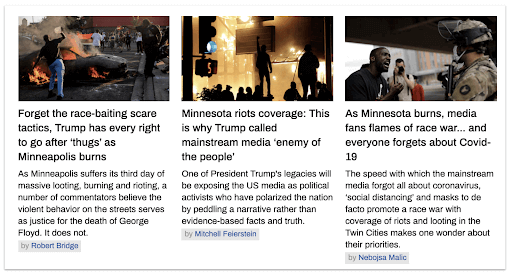 RT editorials attacking the mainstream media and defending Trump's rhetoric, from its editorial page on June 1.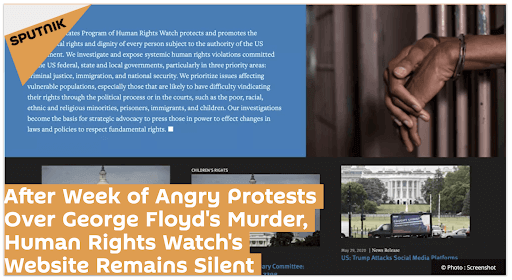 Attack on Human Rights Watch by Sputnik, accusing the NGO of "deafening silence" and "seemingly turning a blind eye to the humanitarian crisis unfolding on Stateside streets," on the grounds that the organization's website did not mention George Floyd's name. In fact, the website on June 1 referenced the riots as the top story on its daily briefing and called for "meaningful reforms of policing" in America, but did not mention the victim by name. HRW staff tweeted widely about police brutality and the protests, as the HRW Twitter feed makes clear.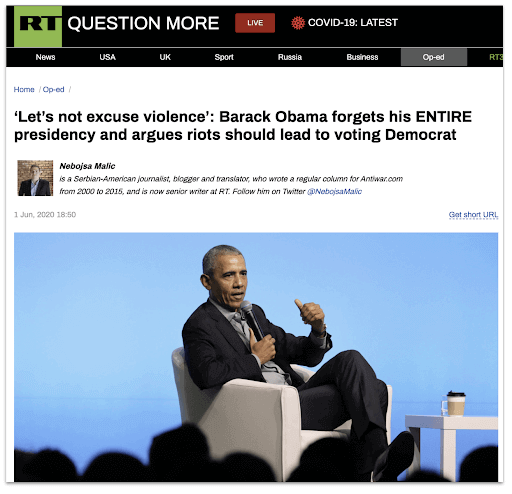 Editorial on RT accusing Obama of "urging people not to excuse or rationalize the violence. He then proceeds to do just that." In fact, far from excusing or justifying violence, the former president's article on which this RT attack was based explicitly condemned the violence: "putting innocent people at risk, compounding the destruction of neighborhoods that are often already short on services and investment and detracting from the larger cause."
The Russian outlets' portrayal of Trump was mixed, with some articles defending his approach and others condemning him as a "racist."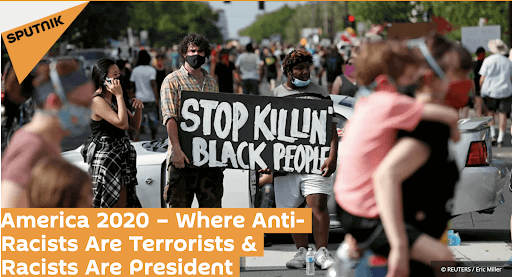 Sputnik opinion piece on Trump as a racist.
Article by USA Really calling Trump a coward for taking shelter in the White House bunker during protests against the killing. USA Really is funded by the Federal News Agency (RIAFAN), which was exposed in 2015 as being connected to the Internet Research Agency.
By June 1, Russian state outlets and official coverage had pivoted to criticizing the police handling of a Russian journalist and to pushing back against the accusation by some U.S. politicians and commentators that "foreign actors" such as Russia could be stoking the protests. Russian state outlets were by no means alone in their outrage at the police handling of journalists, so the Russian state commentary largely reflected events on the ground.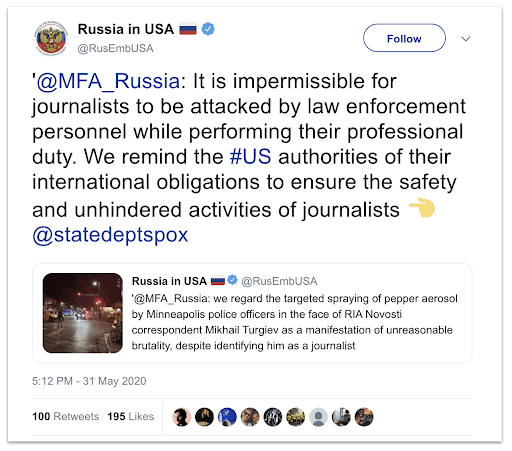 Tweet by the Russian embassy to the United States on the treatment of a Russian journalist.
Russian covert information operations have a long history of targeting African-American grievances. The original Internet Research Agency operation of 2014-2017 focused heavily on the Black Lives Matter movement, and the most recent takedown of IRA-linked assets on Facebook in March 2020 also targeted race issues in the United States using unwitting employees in Ghana. After the March 2020 takedown, CNN reported that the employees were intending to create new accounts and try again, but as yet, none have been convincingly identified as belonging to Russian operations. Moreover, the assets that were taken down in March had a modest following, too small to fundamentally change the dynamics of a nationwide online conversation in the United States. As yet, there is no evidence to support the claim of covert Russian interference in the protests. It is important that such claims not be made or amplified unless there is evidence to support them, as they can be used to falsely discredit and de-legitimize genuine activists.
Some Russian state content did pick up on the claim of U.S. "hypocrisy," and even put it in the context of the Hong Kong law. An RT show on May 29 made the contrast explicit under the headline, "Thugs and heroes hypocrisy." The same day, Russia's Deputy Permanent Representative to the United Nations accused the United States of denying China's "right to restore peace & order in HK while brutally dispersing crowds at home." This shows a strong narrative convergence between Russian and Chinese messaging, discussed below.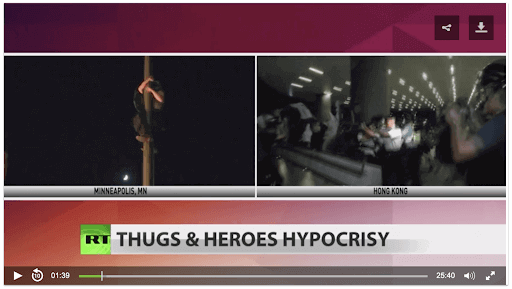 Screenshot of the RT newscast "Thugs and heroes hypocrisy," contrasting Minneapolis and Hong Kong.
Overall, however, the Russian coverage and commentary on the U.S. protests focused more on the nationwide unrest and the authorities' response, in line with earlier practice of reporting on genuine grievances in the West and letting the events speak for themselves.
Crossover
One other factor in this coverage merits attention, and that is the way in which state outlets from these different countries amplified one another. This likely reflects a current confluence of interests rather than a "confluence of tactics," as all three states have a shared interest in undermining U.S. influence as the main power capable of limiting their own geopolitical intentions, and all three have faced severe U.S. criticism for their human-rights records. Under such circumstances, each country's messaging provided useful validation and supporting commentary for the others.
This cross-pollination occurred in multiple directions. As noted above, Russian state voices echoed the Chinese argument of hypocrisy vis-a-vis Hong Kong. Russian outlets also echoed Iranian narratives, and Chinese officials amplified Russian claims (including some of the Russian amplification of Chinese narratives).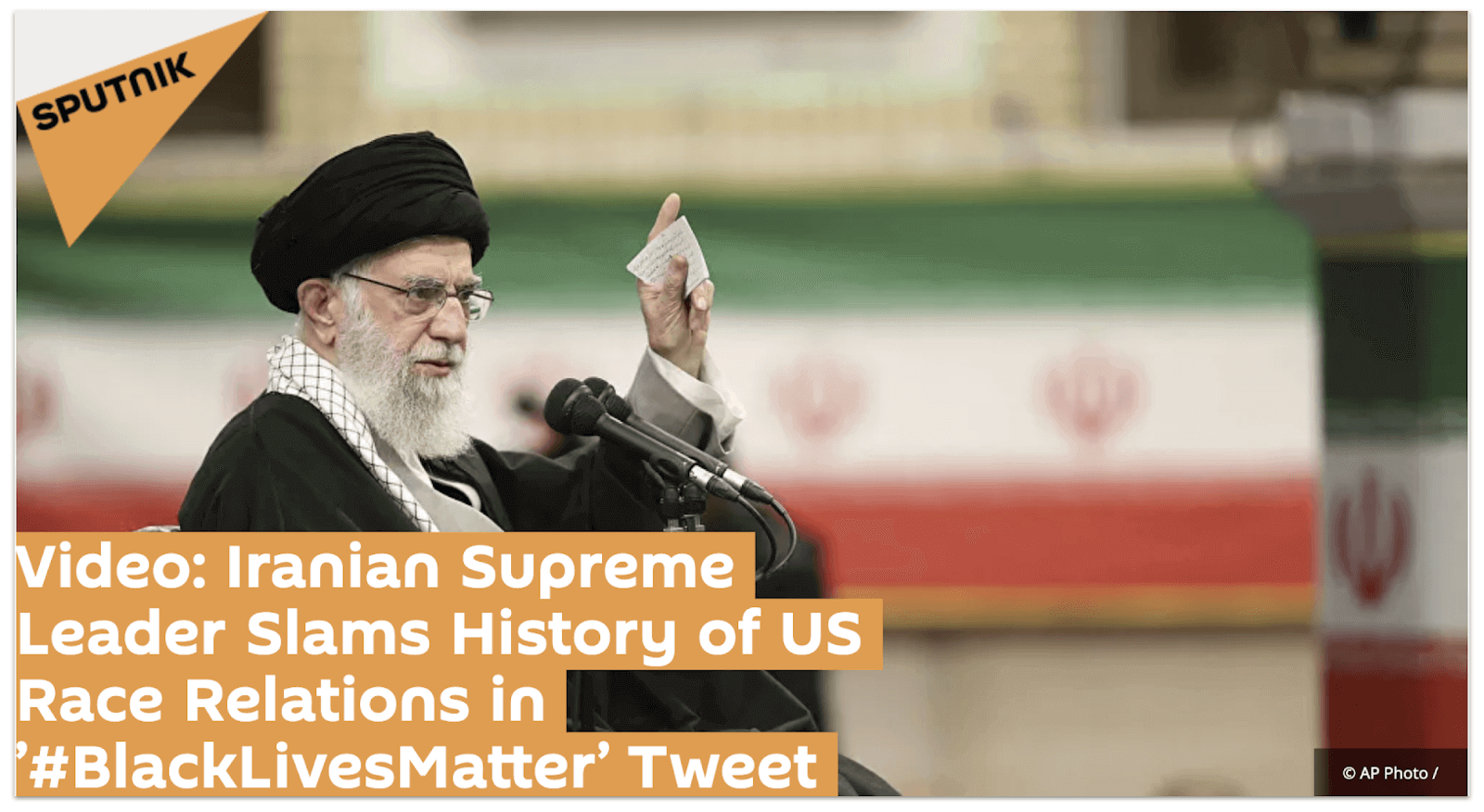 Sputnik article amplifying attack on U.S. race relations attributed to Iran's Supreme Leader.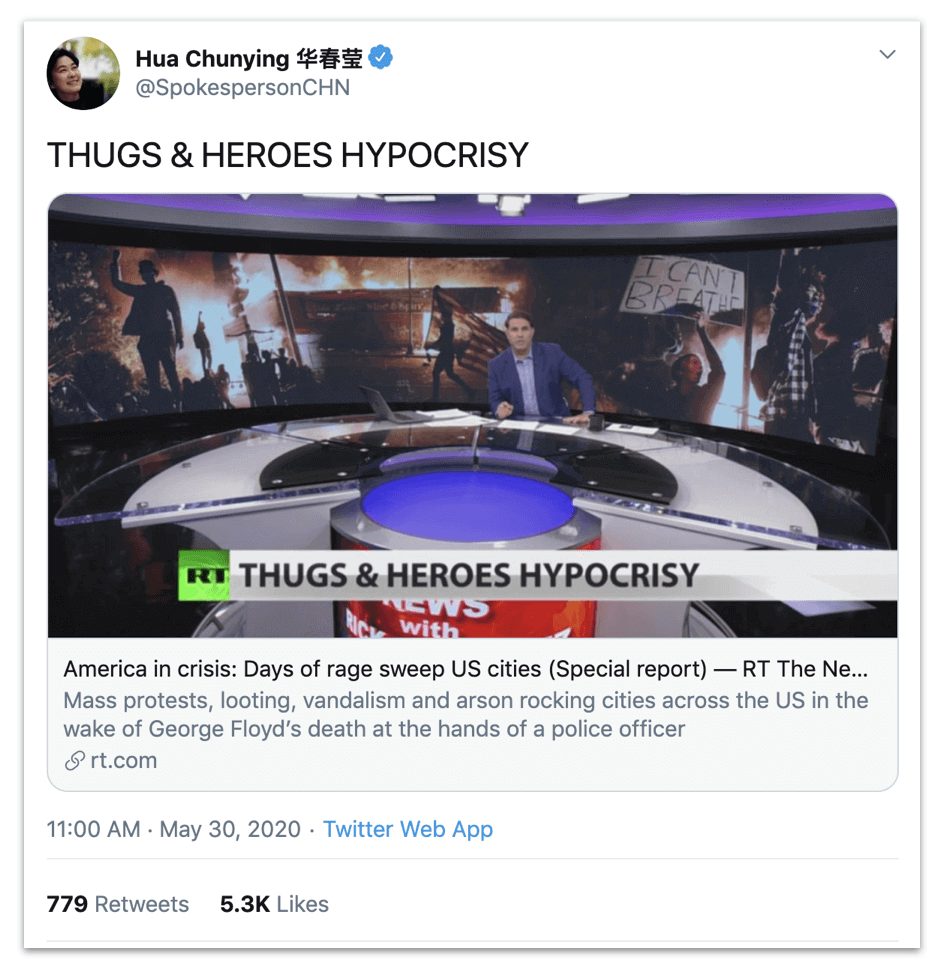 Tweet by China's Foreign Ministry spokeswoman sharing the above-mentioned RT article on U.S. "hypocrisy" over Hong Kong.


Tweets by Russia's deputy permanent representative to the United Nations comparing the Hong Kong and Minnesota protests, including by replying to First Lady Melania Trump.


China's deputy foreign minister retweeting the Russian diplomat.