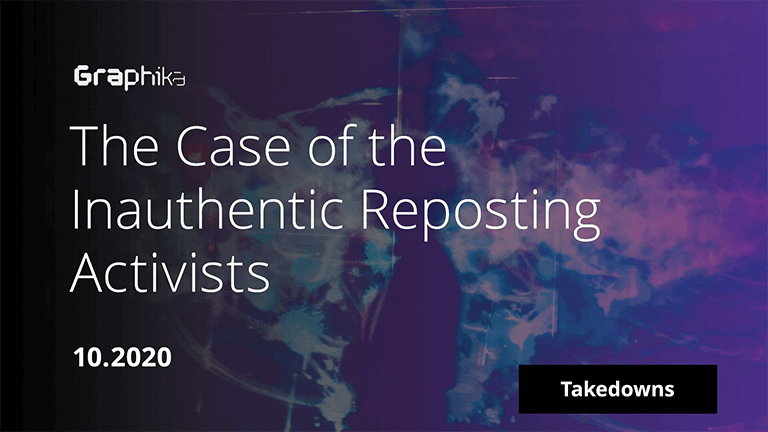 Graphika Report
Tuesday October 27, 2020
The Case of the Inauthentic Reposting Activists
Ben Nimmo, Camille François, C. Shawn Eib, Léa Ronzaud
Read Full Report
Inauthentic Bilingual Network Targeting Feminism, Black Lives Matter, and Hispanic Communities in the U.S.
On October 27, Facebook took down a small network of inauthentic accounts, mostly on Instagram, that posted political, activist and engaging content about the United States in Spanish and English. The network was operated by people from Mexico and Venezuela. Neither Facebook nor Graphika at this stage was able to pinpoint the operator of this network with confidence. This report highlights the tactics and narratives shared by the inauthentic pages.
The network began posting in Spanish in April and added its first English-language accounts in July. It focused on a handful of core themes, primarily in the United States: Latinx identity and pride, the Black Lives Matter (BLM) movement, uplifting and positive-thinking content, gender equality, LGBTQIA+ rights and the environment. The English-language content focused primarily on feminism and BLM. Very few posts referenced the impending U.S. election. A small number of the memes and images used in this campaign were previously used in Instagram-centric operations run by the Russian Internet Research Agency (IRA), but this is insufficient to attribute the activity.
Facebook said that it "began this investigation based on information about this network's off-platform activity from the FBI." In its statement announcing the takedown, it wrote that some of the people behind the activity appeared to be unwitting accomplices, but that the operation as a whole tried to conceal its coordination and "used fake accounts to create fictitious personas and post content." This included some people claiming to work for a Poland-linked firm called "Social CMS" that did not appear to exist.
"Some of these accounts posed as Americans supporting various social and political causes and tried to contact others to amplify this operation's content," Facebook's statement said.
Influence operations have been known to use unwitting accomplices in recent years: the IRA for instance has operated through unwitting accomplices in at least three operations focused on the U.S. 2020 presidential election in the past year. They are documented in the following Graphika reports: Double Deceit, Unlucky 13 and Step Into My Parler.
The network had mixed success in building an audience. The most followed account, which mainly posted "Latinx life" humor and feel-good memes, had just over 14,000 followers when it was taken down. This was double the following of the next most popular account, which also posted humorous memes. Of the 22 Instagram accounts in the set, 15 had under 2,000 followers each. The operation appeared to still be in audience-building mode when it was taken down: it did not systematically promote a specific political message, but posted engaging and/or divisive content and invited users to react.
Read Full Report