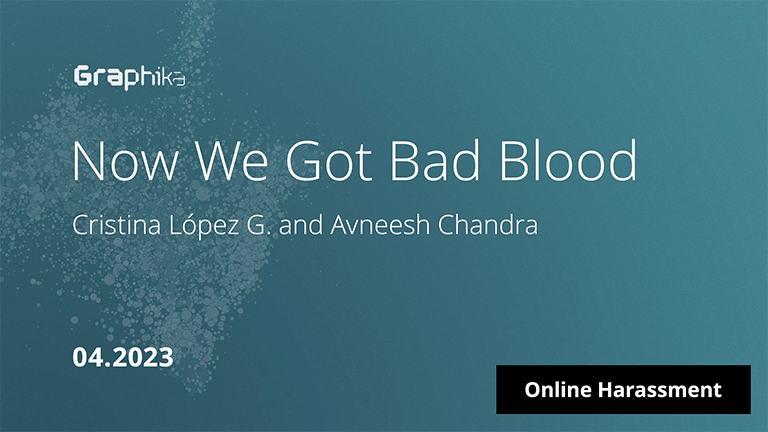 Graphika Report
Wednesday April 12, 2023
Now We Got Bad Blood
Cristina López G. & Avneesh Chandra
Read Full Report
Exploring Harassment Dynamics Within the Online Taylor Swift Fandom
In October 2022, Taylor Swift's announcement she would be releasing a new album activated her online fandom. Among "Swifties" on Twitter, Tumblr, and TikTok, speculation swirled about the meaning of track titles as fans attempted to identify "easter eggs" and decipher encoded messages Swift is known to hide in her music. Something else, however, came to dominate this online conversation, prompting major media coverage and explainers: a years-old theory called #Gaylor.
Simply put, #Gaylor is an unproven theory that Swift is queer. Proponents believe that careful scrutiny of Swift's lyrics and social media activity tells a story of secret relationships with female celebrities. The theory originated in queer communities on Tumblr in 2014 before shifting to Twitter, with #Gaylor content moving from Tumblr's walled garden of complex tags and a nearly inscrutable posting culture over to Twitter's mainstream. For many Swifties, #Gaylor amounts to a malicious and false narrative about their favorite celebrity. For true believers who see attempts to debunk the theory as homophobic attacks, it has become a pillar of their online identity.
As the theory has received more attention, with mentions of the key term and hashtag "Gaylor" spiking sharply on Twitter after the October release of the Midnights album, this adversarial dynamic has fuelled intra-fandom harassment. To understand how a seemingly harmless fan theory fractured this online community, Graphika created a network map of the Gaylor conversation on Twitter, revealing sub-communities that have become increasingly polarized under mainstream attention. As the divide has deepened, these groups have engaged in doxxing, coordinated harassment, and online intimidation to silence opposing views.
Swifties have long been the subject of journalistic and academic interest for their prolific content creation, digital savvy, organizing capacity, and sometimes vicious online behaviors. In this report, we analyze how contested, niche beliefs can fragment online fandoms and result in intra-community harassment dynamics, a phenomenon also observed in other fandoms: that of One Direction, the TV show Sherlock, and even the QAnon movement. By studying how this increasingly divided community has evolved and interacts, we hope to better understand all online discourse, whether it be a debate over sports, politics, or an icon's sexuality.
Read Full Report