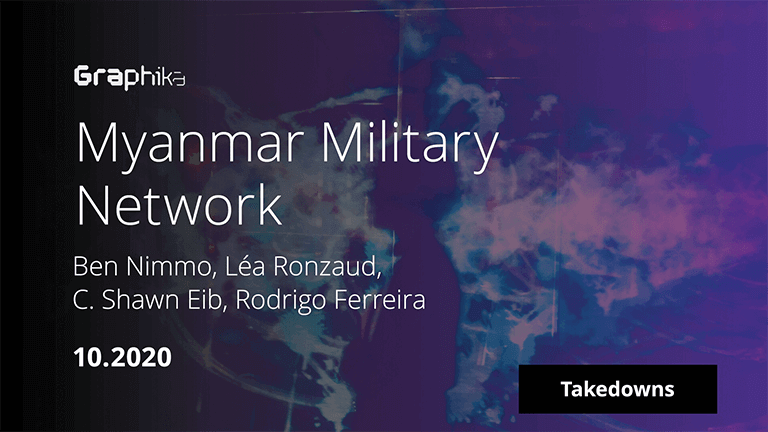 Graphika Report
Thursday October 8, 2020
Myanmar Military Network
Ben Nimmo, Léa Ronzaud, C. Shawn Eib, Rodrigo Ferreira
Read Full Report
Coordinated Inauthentic Behavior Traced to Members of Myanmar Military Before Elections
On October 8, 2020, Facebook announced the takedown of an inauthentic network of just over 70 assets in Myanmar that it attributed to members of the country's military. The network primarily posted about the positive role the military plays in Myanmar, but its fake accounts also posed as supporters of the military-backed opposition party the Union Solidarity and Development Party (USDP), and network assets criticized the country's prime minister, State Counsellor Aung San Suu Kyi, and her ruling National League for Democracy (NLD). A small number of posts included hostile commentary about Muslims and the Rohingya minority.
Myanmar is scheduled to hold a general election on November 8, only the second democratic election that is expected to be completed since a military coup in 1962. Ahead of the elections, repeated warnings have circulated that Facebook could be used to spread disinformation and hate speech, as it was in the buildup to the army-backed Rohingya genocide of 2016-2018.
As it announced the takedown, Facebook said, "We identified clusters of connected activity that relied on a combination of fake, duplicate and authentic accounts to post content, evade enforcement and removal, manage Pages and drive people to off-platform websites including military-controlled media domains. These accounts often used stock female profile photos and photos of celebrities and social-media influencers. … We began our investigation after reviewing local public reporting about some elements of this activity. Although the people behind this activity attempted to conceal their identities and coordination, our investigation found links to members of the Myanmar military."
The network was relatively small: it consisted of 50 accounts, 17 pages, and 6 Instagram accounts and was also connected to a newly created website devoted to the Myanmar military. They focused almost entirely on party politics and targeted the ruling party, weeks before the election. The assets operated as a self-reinforcing cluster, with multiple pages and accounts posting the same content at almost the same time. The most popular page in the set had over 165,000 followers, and some of the accounts had thousands of friends; overall, Facebook reported that about 538,000 accounts followed one or more of the pages. Beyond Facebook, Instagram, and the website, the operation does not appear to have run related accounts on other social platforms; this may be because, according to online service statcounter.com, Facebook accounts for around 99% of social media usage in Myanmar.
The network was also relatively new. Most of the accounts and pages were created in 2020, especially March and April. The associated website was only registered on October 2. The chief exception to this pattern was the page named ဒုိ႔ တပ္မေတာ္ ("Our Army"), which was created in May 2015. This was the operation's most popular asset: by the time of the takedown, it had over 165,000 followers.
Read Full Report