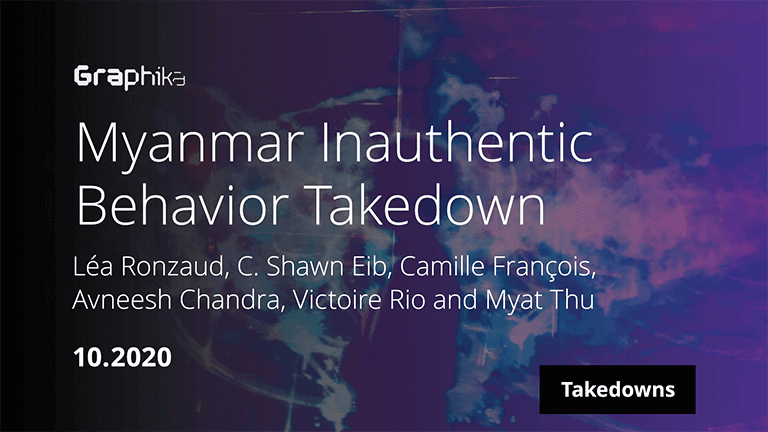 Graphika Report
Thursday October 22, 2020
Myanmar Inauthentic Behavior Takedown
Léa Ronzaud, C. Shawn Eib, Camille François, Avneesh Chandra, Victoire Rio and Myat Thu
Read Full Report
Multiple Clusters of Pages and Websites Pushed Large-Scale Clickbait, Small Volume of Political Content
On October 21, Facebook published examples of inauthentic networks that it had taken down over the past several months for inauthentic behavior. The cases included 655 pages and 12 groups that were based in Myanmar. The pages formed a number of distinct clusters that appeared to be primarily designed to drive traffic to websites with a view to profit from advertising, both on Facebook and via the associated web domains. Each page typically shared content from just one web domain at a time. Multiple pages, in turn, shared content from the same domain, forming distinct clusters that served as an amplification network.
Some of the domains shared identical content and were associated with just one Google Analytics and/or Google Adsense account, suggesting that they were part of networks operated by the same entities. Some of the networks showed some degree of interconnection over time, while others appeared to be distinct.
The assets in the takedown had very high follower numbers. Dozens of the pages had over 1 million followers each, with the largest having over 5 million at the time of the takedown; scores more had followers in the hundreds of thousands. They produced large volumes of content and generated millions of interactions.
The pages appeared to operate for profit. The websites to which they linked often carried ads; some of the Facebook pages carried sponsored posts for commercial products. The majority of the content posted focused on celebrities and gossip; but in the years of their activity the pages also posted a small portion of content dealing with more political subjects or posted about the Myanmar army. A few posts in 2019-20 mentioned the Arakan Army or Rakhine state; a few from 2017 included elements of dangerous speech, notably against Muslims. In an illustration of the porous border between commercial spam and politically-oriented operations, blends of "lifestyle" clickbait with political content have been observed historically both in commercial spam operations, and in influence operations that were attributed to the Myanmar military in 2018 and 2019 (a more recent takedown of Myanmar military assets focused primarily on the Army itself).
Read Full Report