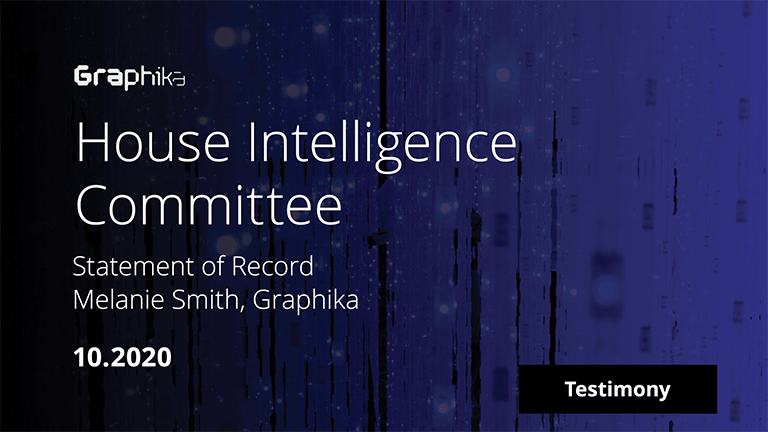 Graphika Report
Thursday October 15, 2020
House Intelligence Committee Hearing on Misinformation and Conspiracy Theories Online
Melanie Smith
Read Full Report
Statement of Record by Melanie Smith, Graphika
Esteemed members of the Intelligence Committee, I'm grateful for the chance to talk about my research on conspiracy theories and misinformation with you today.
My name is Melanie Smith and I'm Head of Analysis at Graphika. Graphika is a network analytics firm that analyzes social media landscapes and conversations to discover how communities form online and how influence and information flow within large-scale networks, with a focus on disinformation detection and risks to electoral integrity.
I have been studying the movement known as QAnon for over two years now, and I have watched it evolve from a fringe conspiracy theory into a major part of mainstream discourse, and from having a relatively negligible impact on global politics to having enormous influence.
In late August I published a report that chronicled the evolution of QAnon over this timeframe, as well as its potential appeal to foreign actors seeking to influence the US election and the growth of the movement outside of the US.
When I first began researching QAnon, it was just one of a long list of communities that represented a concern for US election integrity - now I believe it to be the most pressing threat to trust in government, public institutions, and democratic processes. I want to discuss why I believe that to be the case, and explain how we got here.
Read Full Report