On May 9, Filipinos will vote in presidential and vice-presidential elections that researchers have described as a vote on the future of democracy in the Philippines. Ferdinand "Bongbong" Marcos Jr., son of former dictator Ferdinand E. Marcos, leads the polls. Marcos is running alongside vice-presidential candidate Sara Duterte, the daughter of President Rodrigo Duterte. Marcos' closest competition is Vice President Leni Robredo, who has gained ground in the weeks before the vote.
In our monitoring of online networks and conversations related to the Philippines' political landscape, Graphika has made three key observations about the state of election integrity in the Philippines, which carry ramifications for the international democratic community.
The "Big Lie" – deployed by former U.S. President Donald Trump after his 2020 election defeat, alleging coordinated, widespread voter fraud – resembles claims Marcos has consistently made since his own 2016 election loss. The longevity of Marcos' claims has undermined electoral legitimacy and democratic institutions in the Philippines, and the "Big Lie" has since been replicated in multiple elections around the world.

Elections in the Philippines repeatedly demonstrate the direct link between online disinformation and harassment and real-world harm. In the Philippines, the most pernicious form of harassment is red-tagging, which can have deadly consequences.

In response to widespread disinformation and coordinated harassment, civil society groups in the Philippines have created initiatives to protect the integrity of their elections. These initiatives could serve as models to safeguard democratic institutions worldwide.
The Original "Big Lie"
In recent years, the Philippines has become a bellwether for electoral trends across the globe. After losing the 2016 vice-presidential election to Leni Robredo, Bongbong Marcos and his massive online network of supporters spread false claims suggesting the election had been "stolen" via voter fraud and voting-machine manipulation. Marcos supporters blamed the alleged fraud on Robredo, her supporters, the Philippines Commission on Elections, voting-machine manufacturer Smartmatic, and "deep state" government officials opposed to Marcos. In 2020, the Solicitor General, a Marcos supporter, used these claims to petition the Presidential Electoral Tribunal to nullify votes from three contested provinces that would overturn Robredo's 2016 victory. The petition has since been tabled and rendered moot by the upcoming presidential election.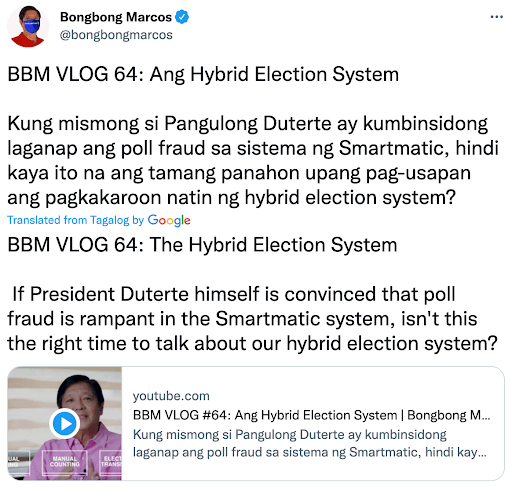 The Marcos campaign continues to deploy electoral-fraud narratives to a Filipino electorate primed to believe these narratives after six years of deliberate efforts to delegitimize the electoral system. According to an analysis by VERA Files, a Filipino fact-checking organization, the most common form of disinformation in the country in 2021 was election-related, and Marcos benefited the most from this activity. Another fact-checking group found his main rival, Robredo, its biggest victim. Right-wing candidates worldwide, including in Peru, France, the United States, and Brazil, have since deployed tactics similar to Marcos' "Big Lie" strategy.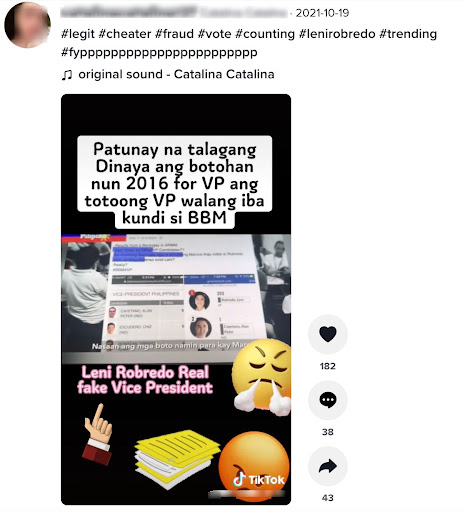 Red-Tag, You're It
Since 2016, Marcos has harnessed his online network of supporters to fuel his political ambitions and burnish his and his father's reputation with a revisionist history of the Martial Law period. He has also used social media to brand and harass his rivals as communist insurgents, a tactic with deadly implications known as red-tagging.
Although the Filipino government has used red-tagging for decades, its use resurged under Duterte through official red-tagging pronouncements and social media posts, according to Human Rights Watch. Graphika's analysis shows red-tagging to be prevalent across several platforms, and that it is often deployed haphazardly against politicians critical of Marcos and Duterte, members of the media, and civil society organizations. Of particular concern is the use of multiple government institutions to formalize red-tagging and subsequent physical attacks against its victims. For example, Graphika found evidence that social media accounts affiliated with the police had attempted to red-tag left-wing political organizations.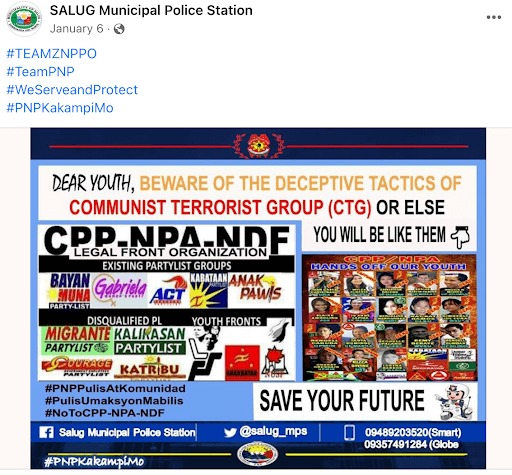 Red-tagging is just one way social media has been used to incite offline violence in the Philippines. Marcos and his supporters have now adopted this tactic as well as other forms of harassment to target political rivals and the media. Then, in late March, Duterte's faction of the ruling PDP-Laban party endorsed Marcos for president. Since then, Graphika's network maps have shown an increased convergence between the Marcos and Duterte online communities of supporters. This consolidation can be seen in Graphika's Philippines 2022 Election Landscape map, where the top hashtags within the pro-Duterte group all support Marcos.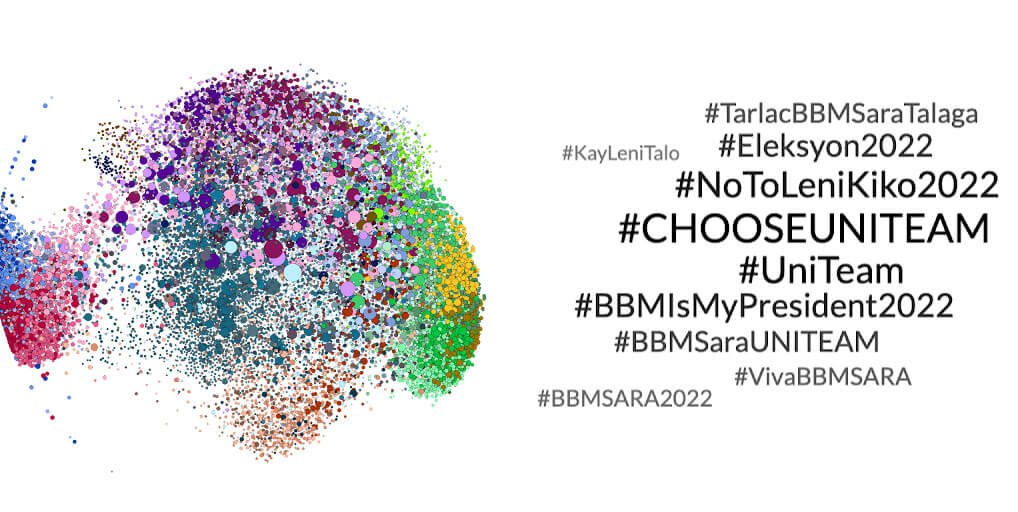 But this violent affinity between Marcos and Duterte supporters is not new. A January Rappler study reported that as the media began to increase coverage of the 2022 election, online harassment of journalists by Marcos and Duterte supporters rose in tandem. Harassment has included media such as a popular video depicting a violent exorcism of Robredo and encouraging individuals to share videos of themselves mocking "LenLen Loser." Online calls for violence by Marcos and his supporters will continue to have offline consequences.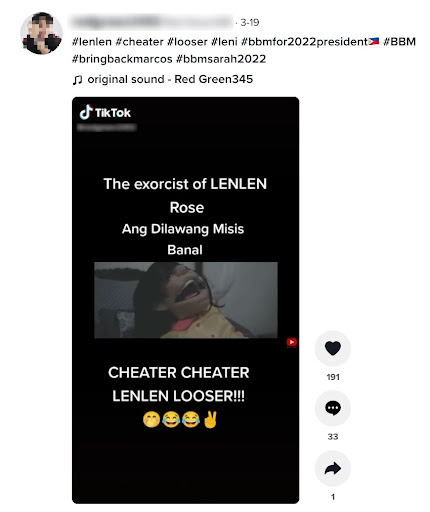 Civil Society Fights Back
The continued denigration of the Philippines' electoral institutions, the media, and civil society by Duterte, Marcos, and their supporters has fomented a crisis of legitimacy for democracy in the Philippines. At risk is not only the fate of these institutions but the lives of journalists, politicians, and citizens who sustain them. Filipino democracy is not watching passively, though. Despite the constant harassment and imprisonment of journalists, media outlets and fact-checking organizations, such as Rappler and VERA Files, continue to combat rampant disinformation campaigns. In 2019, and now again in 2022, Tsek.ph, a coalition of over 30 organizations spanning academia, media, and civil society, has fact-checked claims related to individual candidates and the broader electoral process. This year, a second coalition of over 120 Filipino media organizations, civil society groups, business organizations, and others joined together to launch #FactsFirstPH, a proactive effort to combat online electoral disinformation.
The coalition, modeled after the U.S. Electoral Integrity Partnership that operated during the 2020 election, seeks to debunk lies, amplify legitimate media, and hold malicious actors accountable for online abuses. The graphic below, which highlights social media use of the hashtag #FactsFirstPH in our Philippines 2022 Election Landscape map, shows the coalition's broad reach in the Philippines political conversation. While pro-Marcos and pro-Duterte groups primarily demonstrate negative sentiment towards #FactsFirstPH, the range of political and non-political communities engaging with the effort, combined with the mainstream media organizations' sustained promotion of its' fact-checking, demonstrates the immediate impact this type of initiative can have. Going forward, we expect civil society to continue to explore innovative ways to work together to prevent election-related disinformation.